As of March 15, 2016, travellers with passports from
eTA-required countries
who enter Canada
by air
will need an eTA.

The authorization is electronically linked to your passport and is valid for
five years
or until your passport expires, whichever comes first.

Applying for an eTA is a simple and inexpensive ($7 Canadian) online process that will take just a few minutes. Most eTA-eligible applicants will get their authorization within minutes of submitting the online form.

If you need an eTA, you should:


• get it when you plan your trip – do not wait for the last minute to apply (see
Travel documents
), and
• travel to Canada with the passport you used to get your eTA.


Find out if you
need an eTA
.
Getting to Lake Louise

Calgary (YYC) is the closest international airport.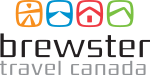 Brewster Airporter


Operates bus services from Calgary Airport to Chateau Lake Louise. Bus travel is highly recommended during the winter season due to hazardous winter road conditions.
www.explorerockies.com


On line:
Click Here
Please select Lake Louise as your destination.
By Phone: 1-866-606-6700

Alternatively, you may wish to rent a car at the Calgary airport.

Please contact Janette Champ
info@lakelouisemsms.org
if you require additional information.