HOTEL SCAM - Ehotel Services

If you receive an email from this company (support@ehotelservices.org) please discard immediately. They are in no way affiliated with the Workshop or ETP Symposium Inc.


The workshop takes place at The Fairmont Chateau Lake Louise, located 180 km west of Calgary (2.5 h. drive). All participants must choose from one of the following room/meal plan options. Please do not book your accommodation through any third parties, as this would violate our contract with the hotel.
Student Rooms

We have a limited number of student accommodations this year (double occupancy required). Please contact
Janette Champ
for more details and to reserve.


Fairmont Mountainside Standard

1 Person $392.64
2 Person $565.50


Fairmont Mountain Deluxe

1 Person $497.64
2 Person $670.50


Fairmont Lakeside Standard

1 Person $550.14
2 Person $723.00


Fairmont Lakeside Deluxe

1 Person $655.14
2 person $828.00


*Prices may vary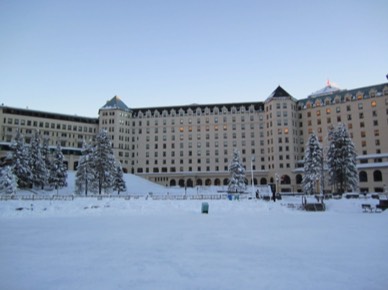 REGISTER EARLY – ROOMS SELL OUT FAST!

Rooms cannot be guaranteed after November 1, 2022.

Please Note:
There are 25 different room categories. We have listed the 2 least expensive rooms. There are a limited number of Fairmont Standard Rooms available. Please book as soon as possible to secure those rates. As the Workshop has negotiated special rates, please do not select any add-ons during your room reservation process. To see the Group Rates, please select the number of guests to the room and then input your arrival/departure dates.

Please quote code:
PTMS
to ensure you are placed in the Workshop's group block.
To book your hotel on line:
CLICK HERE
.
If you wish to contact the Hotel Directly to book, please see below:


FAIRMONT CHATEAU LAKE LOUISE
Toll Free (Room Reservations only):
1 866 540 4413

chateaulakelouise@fairmont.com
111 Lake Louise Drive
Lake Louise
Alberta, Canada
T0L 1E0

Maps & Directions
TEL + 1 403 522 3511
FAX + 403 522 3834

* The above hotel rates are all inclusive (3 meals per day, room, taxes, gratuities, etc.). The rates for pre and post days are $198 (Standard Mountain), $298.00 (Deluxe Mountain View) and $348.00 (Lake View), Plus taxes, etc..
* If you wish to find a person to room with, or when booking a suite, please contact Janette Champ at
info@lakelouisemsms.org

* All participants must be on the meal plan.
* Also, spouses and accompanying guests must be on the meal plan ($172.86) per day all inclusive).
* Self Parking is complimentary and $25 per day if you use the valet.